Competitive equipment for all levels
Golf de Valgarde features a driving range of 60 hitting stations, including 20 roofed and 8 illuminated, as well as a grassy driving zone available both for beginners and seasoned players. This way, golf enthusiasts can enjoy our facilities in all weather conditions and at any time of the day thanks to our optimum lighting.
To help players perfect their game, the pitch and putt offers 4 compact holes between 50 and 80 metres, as well as a 300m2 chipping zone. That way seasoned players can hone their technique while amateur golfers can enjoy this smaller course to practice.
Furthermore, two training greens with an area of around 1,000m2 have been created to offer a unique experience around the spirit of golf as well as ideal conditions for players to improve their skills.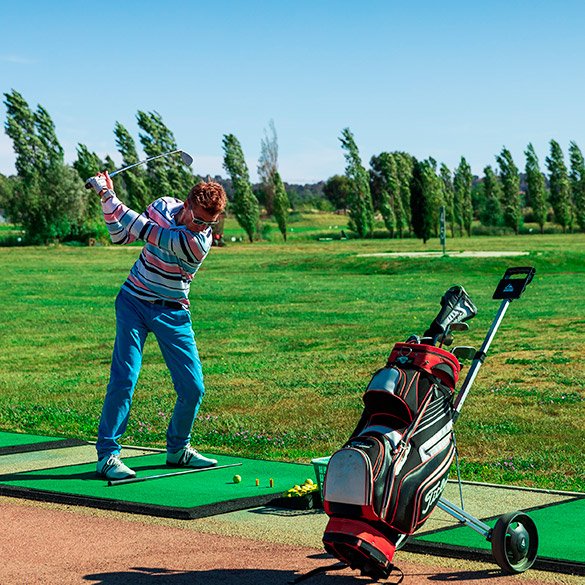 The cradle of prestigious competitions
Thanks to the diversity and quality of installations at the disposal of players, Golf de Valgarde is very proud to host many prestigious competitions such as:
Côté Golf Competitions
The Critérium
The Grand Prix
The MIDAM Competitions
The SENIORS trophies, etc.
To ensure the comfort of all players and club members, Golf de Valgarde also offers various reception spaces, available for rent or privatisation, as well as a restaurant, its panoramic terrace and clubhouse to enjoy a breath-taking view over the domain in an exclusive atmosphere.
A specialist shop complete the facilities on offer to provide the Golf members and visitors with all necessary services for their well-being.